What is vLoot.io? Your favorite place to win free Gift Cards, Games and CSGO Skins!
This short post briefly shows you what vLoot.io is and how you can immediately enter some awesome giveaways!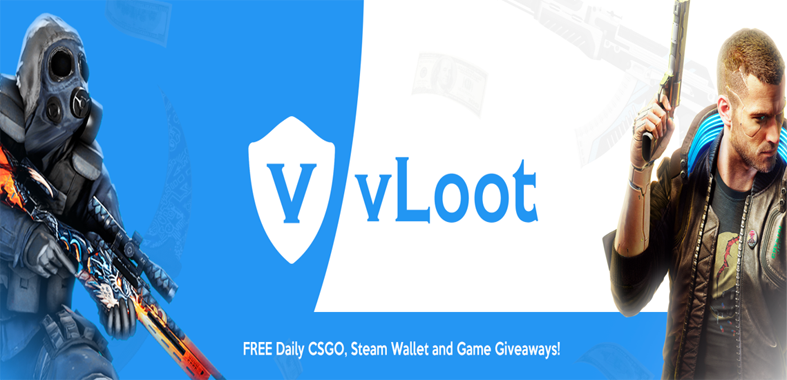 Hey there, welcome to the blog of vLoot.io
In this blog post, I am going to briefly explain how you can use vLoot to win daily prizes such as free CSGO skins, games and gift cards!
We've founded this gaming giveaways site in 2018 and always used gleam.io to create our giveaways and roll our winners - there is no need to sign in on vLoot or remember any login details to enter any giveaways.
All you need to do is to select the giveaways that you wish to enter and complete the list of entry tasks for each giveaway - one entry task completion will be enough to be entered into the giveaway but if you complete more tasks, you increase your chances of winning.
To maximize your chances, you can even invite an unlimited amount of other users to enter the giveaway via your referral link and also unlock a powerful bonus entry once you completed all entry tasks.

If you are dealing with gleam.io giveaways for the first time, you will have to enter your email address and name in the giveaway before you can complete any entry tasks - this data is required in order to contact you if you win a prize so make sure to enter a valid email address.
Our website is releasing multiple new giveaways each week so we recommend you to check back in every few days to not miss out on any new prizes!
You can also subscribe to our newsletter, join our Discord or turn on site notifications and keep an eye on our social media accounts in general if you wish to receive notifications about upcoming giveaways.
---
Can I trust vLoot.io?
Absolutely - our site has been around since 2018 and during that time we've given away thousands of dollars in prizes.
If you are wondering why we are doing this, that's a valid question as it always sounds a bit questionable to come across free stuff on the internet.
We earn our money by selling promotional placements for advertisers inside our giveaways and also promote affiliate links.
Additionally, the vLoot brand is also growing from this which allows us to create and promote potential future projects easier.
If you wish to view any past winners, you can have a look at our history tab, view a lot of our winner confirmations on Twitter or have a look at our Trustpilot page.
You can also email me at serkan@vloot.io anytime if you have any further concerns or general questions and I'll be more than happy to answer any inquiries!
Here are some steps you can follow to get started immediately!
If you followed the steps above, then you're all set and ready to win some giveaways!
Best of luck and have a great day!