Get Steam Wallet Codes fast & free in 2021
This post will explain what Steam Wallet Codes are, why you want them, and how to get them for free.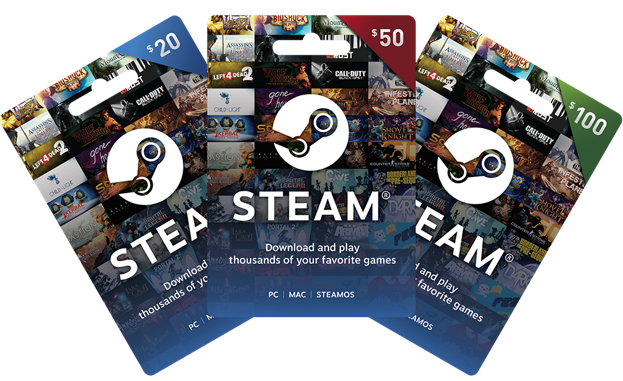 What are Steam Wallet Codes?
Steam Wallet Codes are randomly generated codes that can be found on physical and digital Steam gift cards. When you activate these codes through the Steam website or desktop app, the associated funds get added to your Steam wallet. These funds can be spent to purchase games and DLCs in the Steam Store, inside games to buy in app purchases and subscriptions, and in the Steam Community Market to acquire ingame items such as CSGO skins, TF2 keys, Rust items, Dota 2 items and even trading cards, which can be crafted into badges to level up and upgrade your Steam profile effectively.
How do I get Steam Wallet Codes?
Often, people will try to use "Steam Wallet Code Generators", 11/10 of which are scams that just seek to steal your account / make you download some shady crypto miner virus that can get you banned from Steam. We've researched the lesser known methods and picked the top 2 best methods to compile into a short list to help you get your hands on Steam Wallet Codes fast and free without downloading or buying anything.
#1. Raffles
The raffles method involves entering giveaways for Steam Wallet Codes, often using Gleam. There is usually no limit to the amount of raffles you can enter, and the prizes for winning a raffle are usually huge. Many raffles let you increase your chances of winning by collecting more tickets (often called entries), usually obtainable by completing fast and easy tasks, such as entering another giveaway, checking out a sponsor's website, or engaging with the community on social media sites such as Twitter or Discord. In addition, many raffles allow you to collect an unlimited amount of bonus entries simply by spreading the news to others you know and having them enter the raffle using your unique referral link. The amount of bonus entries is usually proportional to the amount of people you refer. This method is great because you can easily get ahold of high value prizes without having to do much work, and there are usually many raffles started daily on giveaway sites. While you may not win top giveaways often, as long as you are patient and collect as many entries as possible to increase your odds of winning in every raffle you enter, you can surely win prizes.
#2. Points for Prizes
This method involves finding a points for prizes site you feel comfortable with and choosing one of their provided offerwalls to complete offers or fill out surveys for points. These points can usually be redeemed on the site's store for the reward you desire, often delivered instantly digitally. Many points for prizes sites offer Steam Wallet Codes of varying values that you can purchase with points. In addition, many sites offer you a nice loyalty bonus just for visiting their site daily to check out new offers and prizes. This method guarantees you have full control over when you win your prize and that the prize you receive is the one you chose. While this method may take you a bit of time and effort, it is a guaranteed way to obtain Steam Wallet Codes compared to raffles, where it mostly depends on your luck.
Hopefully this post gives you some pointers on how you can get your hands on Steam Wallet Codes for free without downloading shady generators often hiding crypto miners and viruses.
If you want to enter some safe and fair raffles for high value Steam Wallet Codes, make sure you stop by vLoot, where new Steam Gift Card giveaways are started daily.